Dual Shaft Shredders
Jordan Reduction Solutions offers a wide range of industrial shredders for recycling. With dual speed counter rotating shafts and our heavy duty industrial shredder can handle your toughest application.  With our unique cushioned drive train system, and integrated Allen-Bradley PLC, our industrial shredders can handle the most rugged and adverse shredding conditions, while protecting against jams, shock loads and other unpredictable aspects of material reduction. We also offer several of our units with integral bed screens for more accurate end product sizes.
Industrial Shredders
Dual shaft shredders are ideal for shredding a variety of materials and can handle materials and applications that others designs such as single shaft shredders have difficulty handling.  Bulk items can quickly be reduced to manageable sizes for disposal or further processing in one of our Grinders or Granulators.  Not only can we supply you with a single shredder, we can as well supply you with a complete size reduction line utilizing the full scope of our product offerings.
Plastic Shredder
Plastic is perhaps one of the most commonly recycled product both in post industrial and in post consumer applications. Typically, the general size required for recycling of plastic is 3/8″. However; some of those plastic items are too large to be put direction into a granulator for processing down to that size. In such cases, a plastic shredder is then needed to reduce the larger items to a manageable size for the granulator to handle. We offer a variety of shredder sizes to handle larger plastic components, rough shredding them to an appropriate granulator feed stock.
Experience
Simply put, we are one of the oldest Dual Shaft Shredder manufacturers in the U.S. and put our first shredder on the market in 1906.  Since then, we have continued to provide equipment that gives years of continuous, reliable service to help you meet your demanding size reduction needs.  And we are proud to continue to manufacture one of the robust Industrial Shredders on the market today.   Many of our installations continue to produce and shred 30-40 years after their initial installation date.
Jordan Reduction solutions has a shredder built for your application. And if we don't, then ask us about our custom integrated solutions to meet your needs.  You demand the best and we give you the best – service, parts and equipment.  All still proudly manufactured in the U.S.A.
---
Shredder Cross Sections: Standard and With Screen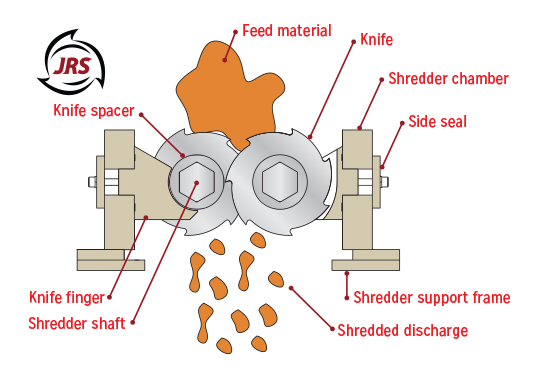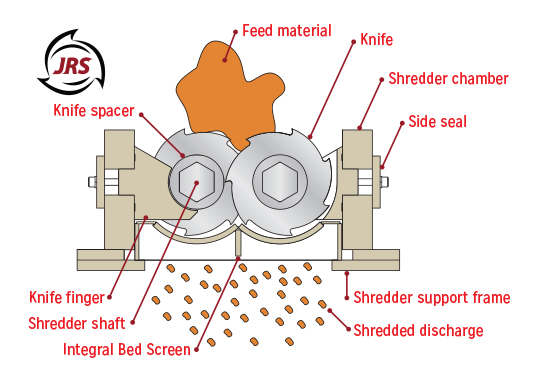 Shredder Sizes
Cutting chambers from 17″ x 14″ to 60″ x 40″
Motor sizes from 15HP to 400HP
Shredder Parts and Service
With an extensive inventory and a complete line of CNC Machining Centers, we can supply your parts quickly – often overnight. We stock bearings, seals, knives and additional components. Learn more about our Parts and Service Department.