Portable Granulator
Our line of G1012 and G1420 Portable Granulators is the solution for those times when transporting your feed stock might not be the best option. These units are self-contained and can be plugged in to any area that has a pig tailed 3 phase electrical service. Mounted on heavy duty casters and complete with flexible discharge conveyors, these units are ideal to roll into any area to set up a temporary granulating station.
Granulators, sometimes referred to as "crushers", have the unique ability to quickly and efficiently cut streams of PET and HDPE plastics, vinyl, and other scrap materials into small uniform particles or flakes for recycling or remixing into extrusions, injections molded parts, and other manufacturing processes. Most granulators are designed for in-place operation and may be anchored down to the floor or other mounting points, making them difficult to move around for operation in other areas of the facility. But this problem is solved with our Portable Granulator, which is mounted to a sturdy frame assembly with heavy swivel rollers. A flexible power cord is used to connect to a local A/C power source, and the unit is ready to go.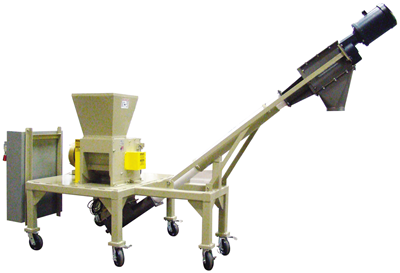 Chamber Specifications
Available in two chamber sizes:
Available Horsepower:
G1012 – Available in 10 or 15 horsepower
G1420 – Available in 20, 25 or 30 horsepower
Cutting Knives:
G1012 – 3 Rotating and 2 Stationary Knives
G1420 – 3 Rotating and 2 Stationary Knives
(Optional 5 Blade Rotor available for G1420)
Screen Sizes:
G1012 and G1420: .033″ diameter and up
Portable Features
These portable granulator machines are completely self-contained and have multiple infeed hopper configuration options depending on customer and workflow needs.
The assembly is mounted on industrial grade, heavy duty, lockable casters for easy maneuverability.
Discharge from the granulator is via a flexible screw integrated into the roll around frame..
Screw height is designed for normal Gaylord filling, and can be adjusted with a flexible discharge hose to fill other types of containers..
The electrical control panel is mounted to the granulator frame, and includes various options for pigtail connections, cord type, and length.
Solid cutter body
Double edged granulator knives are constructed from high alloy hardened steel for superior service in any application. Knives are also designed for easy access and adjustment during routine servicing.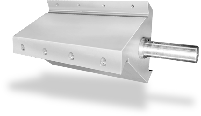 System Controls
Standard unit comes with relay logic controls. Allen Bradley MicroLogix PLC are available upon request.
Power connection is via a pigtailed connection – suitable for plugging in to any mating connection.
Standard voltages of 460/3/60.
Multiple 3 phase voltages available upon request.
Other granulator options: See the Granulators page for the full line of JRS granulators.