Plastic Recycling
When you need to recycle or destroy plastic, be sure to choose the right shredding equipment. Jordan Reduction Solutions has years of application experience in plastic shredding solutions. We are the industry leading OEM of dual shaft shredders made in the USA.
In addition to a rugged plastic shredder, customers get full access to our application engineers. They can help you decide the best equipment for your needs and our sample test facility can can determine . We also manufacture Plastic Grinders and Plastic Granulators. If your application needs more than a shredder, we are the company to call.

Each system is controlled by a programmable Allen Bradley MicroLogix PLC. This give you the ability to manage product flow and monitor system performance. These machines are designed for easy field maintenance and are supported with factory OEM replacement parts from inventory in our Birmingham Alabama facility.
Plastic Shredder Applications
These plastic shredder systems are designed for use on a variety of plastic materials from manufacturing processes such as:
Plastic extrusions
Films and sheets
Injection molded parts
Rubber hoses
Plastic Purge
Runners and Sprues
Out of tolerance parts can be shred, ground and recycled back into your material stream…
Or, you may only require a product destruction shred. We have what you need.
Recycle and Re-use
Shredding and Granulating (or just Granulating) is the process of recycling the material back into a granule form. And in doing so, that material can be put back into the extrusion or injection mold process.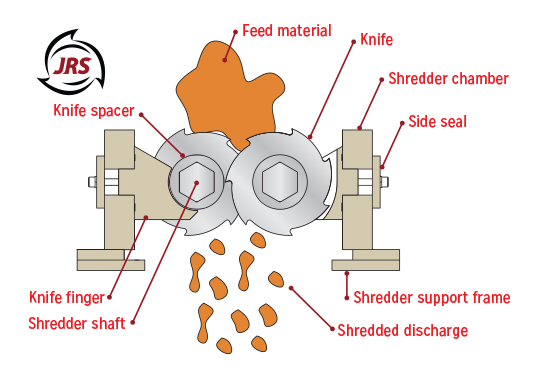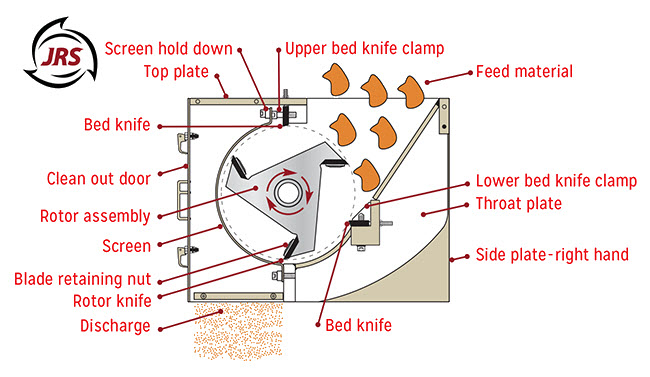 Jordan Reduction Solutions has the equipment you need to meet your application requirements.
Plastic Granulators
Sometime you just need more than a plastic shredder. You need to reduce your plastic to a granule for one of many purposes:
Reduce to a flake for selling to a recycler
Grind to a granule for re-introduction to an in house process
Reduce volume for more economical shipping or storage
Prepare for an additive to another process
See our Blog Post on Shredding, Grinding and Granulating to help determine your needs further. No matter your need, Jordan Reduction Solutions has a granulator sure to meet your most demanding application. Check out all the machines we have for your plastic processing needs.